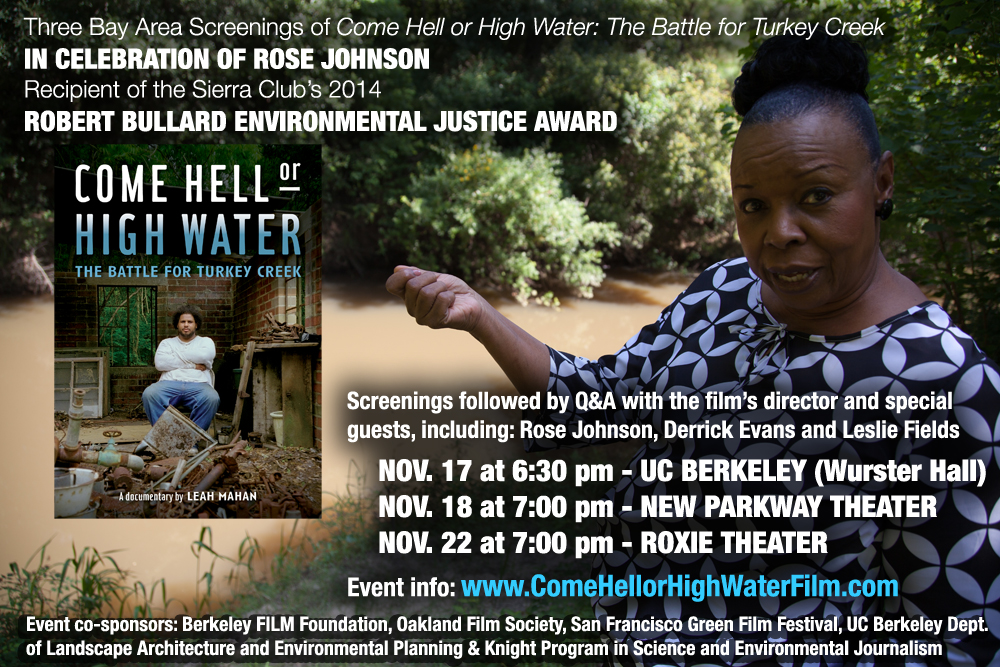 "For me, the fight for environmental justice is personal. Everyone, regardless of your race, color, income or where you live, work, play, or pray, deserves to breathe clean air and work in a healthy environment free from environmental hazards."
— Rose Johnson
Three Bay Area screenings of Come Hell or High Water celebrate ROSE JOHNSON, an important voice in the film and the recipient of the Sierra Club's 2014 Robert Bullard Environmental Justice Award for her work to protect Turkey Creek. Johnson, a Mississippi native, is the first person to receive the award. "When I first got the call that I had been selected, my heart leapt with great joy and excitement," Johnson said. "The fact that it's named after this great servant we refer to as the father of environmental justice just makes receiving this award extremely special."
Johnson was baptized in Turkey Creek and became involved with the Sierra Club when the organization fought a  proposal to fill 500 acres of Turkey Creek wetlands. She had been concerned about increased flooding in her community of North Gulfport as urban sprawl grew around it, and the size of this wetland fill was unprecedented. When a Sierra Club member asked if she could submit comments asking the Army Corps to reject the proposal, Johnson collected more than 500 signatures in 48 hours. She continued to work with the organization for many years, and served as president of the Sierra Club's Mississippi chapter.
The November screenings will be followed by Q&A with the film's director, Leah Mahan, and special guests, including: Rose Johnson, Derrick Evans, and Leslie Fields (Sierra Club director of Environmental Justice). Event co-sponsors include the Berkeley FILM Foundation, Oakland Film Society, San Francisco Green Film Festival, UC Berkeley Dept. of Landscape Architecture and Environmental Planning and Knight Program in Science & Environmental Journalism. 
Nov. 17 at 6:30pm – UC Berkeley (Wurster Hall)
Nov. 18 at 7:00pm – New Parkway Theater, Oakland – Join and share the Facebook event
Nov. 22 at 7:00pm – Roxie Theater, San Francisco – Join and share the Facebook event
Event info: www.ComeHellOrHighWaterFilm.com
---
Come Hell or High Water: The Battle for Turkey Creek follows the painful but inspiring journey of Derrick Evans, a Boston teacher who moves home to coastal Mississippi when the graves of his ancestors are bulldozed to make way for the sprawling city of Gulfport. Bay Area filmmaker Leah Mahan worked on the documentary over the course of a decade, as Derrick and his neighbors stood up to powerful corporate interests and politicians and faced ordeals including Hurricane Katrina and the BP oil disaster. This film is about their struggle for self-determination and environmental justice and shows the resilience of a community that stands together for their rights.